Ciara celebrated her 21st Birthday Party this week.
At first glance, her dress looked nice, until I saw the plastic. Ci-ci, you can do better.But y'all have to admit,it's a
big
step up from
this
, lol.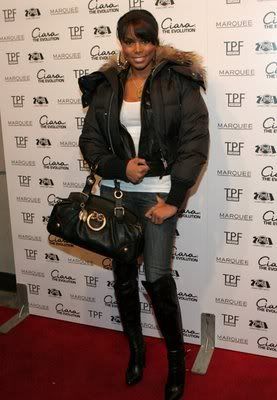 Letoya showed up, looking beautiful as usual.
....No comment....
Miss Vanessa Simmons, i'm not sure about that dress..too much pattern for me
My girl Danielle made an appearance looking great, it's on the border line of being too much jewelry but it works. Looks like she needs to eat a little though..
Beautiful
ANTM Contestant Tocarra came also. The outfit does nothing for her, and something seems wrong about her face.
If you look beyond the outfits (if we can), it looks like they had fun.Happy Birthday Ciara!